GO BACK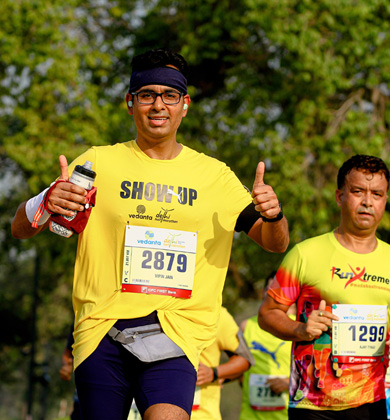 KESHAV MANIK TAHLA
'I can believe anything, provided that it is quite incredible.' Oscar Wide
Running is an incredible journey for Keshav Maniktahla and he is constantly pushing his body and mind to inconceivable limits. Known for his extreme runs Keshav hails from Yamunanagar in Haryana. He is an iconoclastic runner who pushes the boundaries with his every stride, every day. Haryana Chief Minister, Mr Manohar Lal has honoured this Ultra Marathon Runner, for achieving first place in the 100 Days of Running Challenge by defeating about 20,000 runners from 41 countries by running 5,300 km in 100 days and has got the distinction of World Champion.
One might think it is insane to run solo 100 km just after two months of running. And then the obsession and craze to match numbers with runs! Definitely Keshav has never joined the bandwagon of regular stereotype runners. He did 111.11 km on both the Global and the Indian running days. He did 50 km on the 50th day of the HDOR challenge, 60 km on the 60th day, and so on and finished the event with a bang by clocking a single, straight run of 100 km on the 100th day. This nuanced, humble runner had been the district topper in his Class 12 board exams. He had also cleared the IAS prelims and his CAT score was 99.68 percentile and he had four calls from IIM.
Famed as coke runner who swears by the drink, he has reached dizzying heights of the game and can run anywhere, any time of the day. Scorching heat, blazing sun with mercury soaring (at 46 degrees) or chilling numb winters with equally harsh freezing winds at (-8 degrees), or during heavy downpour, if a target is set Keshav will be out there to vanquish it. Among his many accomplishments he did a 24-hour stadium run at a stretch to clocking 13000 lifetime kms. He has covered 3 countries, 18 states and 23 cities thus far and ran over 300 half marathons, 30 ultra marathons and made a red-blooded attempt to run from Leh to Khardungla Pass at over 18000 feet with oxygen levels depleting to 40%. In his upcoming projects, he will be running 250 km from Delhi to Chandigarh and 1500 kms from Chandigarh to Indore. He aspires to run a marathon in all the countries of the world, to participate in Spartathlon in Greece- 246 km, wants to summit Mt. Everest and cherishes the dream to triumph over one of the world's most difficult human race: Badwater Ultramarathon.
"If you cannot find peace within yourself, you will never find it anywhere." Marvin Gaye
Apart from running Keshav finds peace in books and he treasures a personal library with a collection of more than 1,000 books. His favorite book is Leo Tolstoy's 'War and Peace.' 

He rewrote the runners' rulebook and thousands endeavour to emulate his ways. This Highway Runner can run in every possible attire, from heavy boots to bare feet, from runners gear to formals. You might call him an unconventional runner, but the soul who lives by dhodte hai to zinda hai motto, and ran 5,300 km in a 100 days in the 2018 edition of 100 Days of Running, surely commands respect. He has broken the so called glass ceiling long ago.
As Helen Keller said," The best and the most beautiful things in the world cannot be seen or even touched. They must be felt with the heart." The experience of bliss while running is one of them for Keshav.
This passionate adventure athlete has driven from Kashmir to Kanyakumari and Chandigarh to Tawang – 3000Kms- actually driven 55 hours non-stop. This is ultra driving! He has forwarded the proofs of this remarkabe long car drive to Limca Book of Records and awaits their response.
Some staggering highs of Keshav : 
Fastest Half Marathon in 1 hr 34 min 53 secs 
Fastest 5k in 20 mins 50 sec 
Fastest 42.2 k in 3hr 42 mins 
Fastest 50 k in 5 hr 04 mins 
Maximum Distance for a Particular Month: 1959 km 
100 k in 12 hr 32 mins. He ran 93kms in 12 hours and 153 kms in 24 hr.
And yes, he has been running 155th consecutive Sunday Half Marathon!
Keshav has taken in his stride to motivate nearly 500 people from all over the world from being a couch potato to a marathon runner. He has a massive following in Strava and Facebook.
The more physically grueling the event, Keshav's endurance power ascends to greater heights. This unstoppable Ultra Marathoner draws inspiration from 107 year old Fauja Singh, 'The Turban Tornado', from UK.
It is said that every spiritual metamorphosis is preceded by a physical one and it aptly defines Keshav. Its true to every word of Ralph Ellison : "When I discover who I am, I'll be free." And for Keshava, this discovery is through running.